COMMERCIAL
Save money and extend equipment life.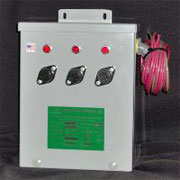 Businesses that use the KVAR Energy Controller will see considerable savings to their monthly electric bills. The KVAR unit reduces your heat generation, amperage usage, and will eliminate your power factor penalty charge. It causes less waste of electrical energy while increasing the life of your inductive equipment. It protects against basic power surges and increases the capacity of the electrical panel by making it run cooler.
The KVAR unit reduces the amount of inductive reactance loads in commercial and industrial environments and saves up to 30% on electric costs! The unit is a small gray box that fits neatly next to your breaker panel, saves you money year after year, and protects the entire business from basic power surges. The KVAR unit was designed with the small business in mind, providing lower energy bills, increased motor and appliance life, as well as surge protection for all of the equipment inside your business. Commercial customers throughout North America could see a realized savings of 15% typically and as much as 30% on their electrical usage (and thus lower power bills).
The KVAR unit is UL tested and CSA certified. Money isn't all that you are saving when you use our products. It's an energy-wise purchasing decision with many positive environmental implications. Power suppliers also benefit by being able to supply power to more customers without the generation or acquisition of additional power. This particular KVAR energy controller device is for a commercial 3-phase panel with 200 amps or less demand.
Other KVAR Energy Controller units are available for specific applications: Rooftop A/C units, Chiller Water Pumps, Air Handler Motors, Pool Pump Motors, Hot Tubs / Whirlpools, Clothes Dryers, Dishwashers, Washing Machines, Refrigeration Equipment /Coolers / Reach In Boxes, Conveyer Belt & Escalator Systems, and Irrigation Pumps etc.