RESIDENTIAL
Save up to 30% on your electric bill

You're using more electricity in your home today than ever before. Did you know it's possible to lower your monthly electric bills with our KVAR Energy Controller!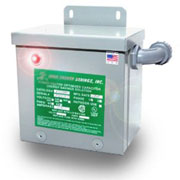 Save on energy costs, eliminate energy waste, increase the life of your appliances, and surge protection for your home.
The KVAR Energy Controller will reduce demand at the meter by reducing lost and wasted power, and will reduce maintenance costs while increasing equipment, machinery and appliance life.
The KVAR Energy Controller stores lost or wasted electricity in itself thus reducing the amount of power drawn from the utility company. Electricity is lost and wasted through inductive motors in your home or business. All inductive electric motors drawing power through your electric company's meter is wasting electricity to some degree.
The technology applied by the KVAR Energy Controller reclaims, recycles and stores the wasted electricity. It then supplies the electricity back to your motors when needed thus decreasing the demand for power from the utility company. As the motor operates, power is transferred to and from the KVAR Energy Controller. This action causes your meter to run slower, which means less kilowatt hours are used resulting in a significantly lower monthly electric bills and a healthier environment for your family.
The KVAR Energy Controller is an Electrical Fine Tuning System that increases power factor by reducing the amount of reactive power that the motor loads draw from the utility company. The KVAR Energy Controller reduces heat generation and amperage resulting in reduced consumption of electricity while increasing the life of the inductive equipment in residential homes, businesses and industries. (I.e. HVAC systems, refrigerators, washer, dryer, freezer, fans etc). When installed, the KVAR Energy Controller increases the capacity of the electrical panel by making it run cooler and by protects all equipment from basic electrical surges.